Bluemont Fair Announces Winner of 2019 Juried Crafts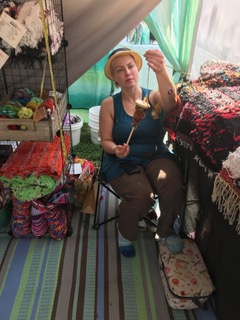 Organizers of the Bluemont Fair are pleased to announce the selection of Nicole Henry of Tannery Rags, whose vast array of handwoven rugs and throws created a bright splash of color on the fairgrounds, as Juried Crafts winner of the 50th Annual Bluemont Fair.  The prize for winning Juried Crafts is complimentary display space at the 51stAnnual Bluemont Fair (to be held September 19 & 20, 2020), a very large blue ribbon, and, of course, bragging rights!
Nicole got into crafting as part of a challenge many years ago and began weaving in 2017. Her first project was on a frame loom she made between two trees. After creating a few web-type weavings, she bought a used floor loom and jumped in with both feet. Looking around for inexpensive supplies was an adventure. She ordered factory waste from upholstery and sock manufacturers and began to weave these discarded materials into colorful creations, gradually improving in skill and artistry. When she lost her regular employment in 2018, weaving took center stage in her life and she began to sell her works at a few small shows and farm markets. Eventually she added wool to her weaving, having heard that creating one's own weft is a happy eventuality. She located sheep farms, bought and washed fleeces, and began incorporating spinning and felting into her craft. And the rest, as they say, is history!
Nicole Henry's Tannery Rags, and the work of many other fine artisans, will be on display and available for purchase during the 51st Annual Bluemont Fair. Some of the artisans, including Nicole, demonstrate the process of creating their craft at the fair, providing a fascinating learning experience.