Activities at the Bluemont Fair
Access to all areas of the Bluemont Fair is included with the price of admission. Activities that cost extra are marked with ($).
Filter by category (Click on the category you would like to view):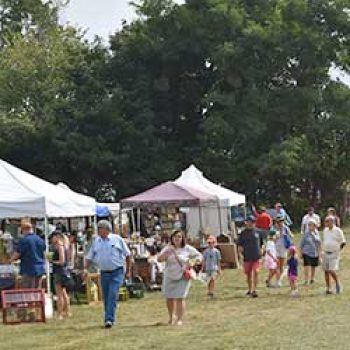 Antiques & Flea Market
Come browse the treasures found in the Antiques and Flea Market section of the Fair! It is conveniently located near the parking lot, so don't hesitate to buy whatever catches your eye, no matter the size.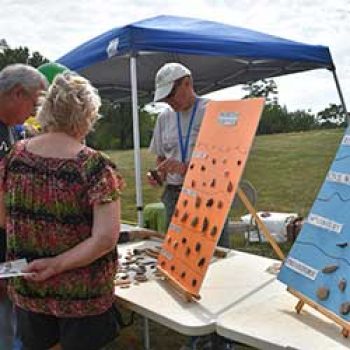 Archaeologist
We are fortunate to have David Clark, a professional archaeologist and college professor, at the Fair with some of the fascinating archaeological finds that have been discovered in our region. Stop by his hands-on table, located in the Montessori Field between the parking lot and the Community Center, to learn more about bones, weapons, and tools that have been discovered right here in Loudoun County.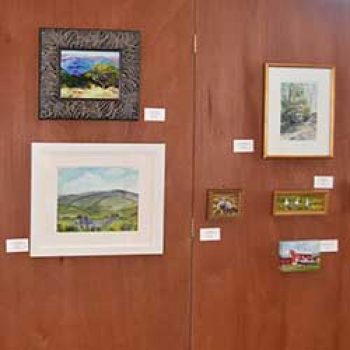 Art Show & Sale
The Bluemont Fair started as a place for local artists to show off their skills, all those decades ago, and the tradition is alive and well! Come browse the work of artists from our area, and take a painting home when you go. We have art at all price levels. Visit the sale on the second floor of the Bluemont Community Center.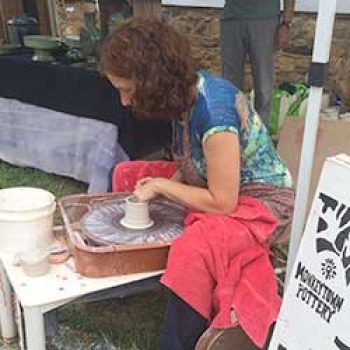 Artisan Demonstrations
We have artisans demonstrating their skills throughout the Bluemont Fair. As you walk through the village, you will see artists throwing pottery, turning wood, making paper, weaving baskets, carving utensils, knitting and crocheting. Look for artists drawing and painting. Try your hand at weaving cloth, spinning yarn, or quilting.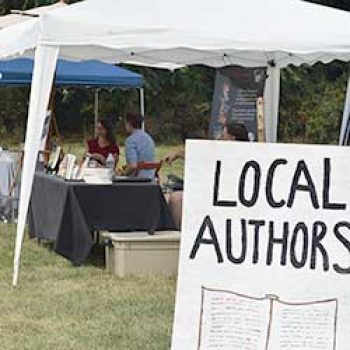 Authors
In the Montessori Field you can meet authors from our area and talk to them about their books. Pick up some to take home! Here you will find books ranging from children's picture books to novels to local history.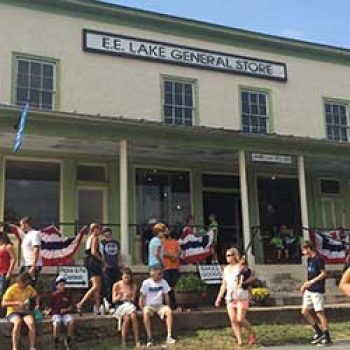 Bake Sale (Huge!)
Be sure to make it down to the E. E. Lake Store. Here you will find Fair merchandise (including our famous t-shirts), the Plaster Museum of Bluemont's Heritage, and the biggest bake sale you have ever seen—all homemade by bakers from our area. Yes, we have gluten-free too! Enjoy a cup of coffee with your pastries. And on Saturday at 1 pm, stop in to buy slices from the pies that were contestants in the Pickle & Pie contest. See if you agree with our judges…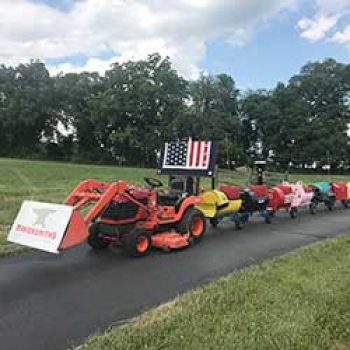 Barrel Train Ride ($)
Join us as Paul Jones brings a barrel train ride for you and your children to cruise in comfort to the lake in the Montessori field—only $1.00 a ride.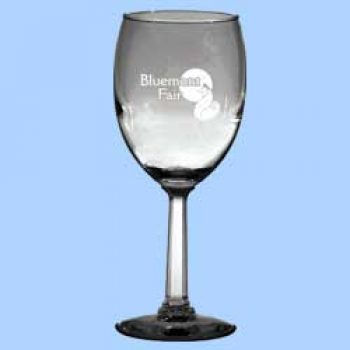 Beer & Wine Tasting ($)
Stop by the Beer & Wine Garden to put your feet up, listen to some music, and taste some local beer or wine. You can buy sample tastes or a full glass. And you get to take home a glass that commemorates the Fair theme for this year.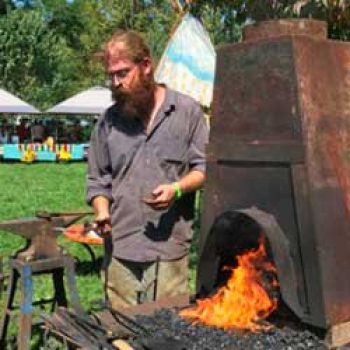 Blacksmith Demonstrations
We are fortunate to have Eric Zieg as the blacksmith at the Bluemont Fair—he is also the demonstrator at Mt Vernon! So he has years of experience teaching visitors about the role of the blacksmith in earlier days. Come visit him in Stone's Field, right beside the Indian Village.
Bluemont Documentaries
When your feet grow tired, stop in to the fellowship hall downstairs in the Bluemont United Methodist Church, the lovely old stone church in the center of town. (The entrance is around on the left side of the church.) We have two documentaries that present some highlights of Bluemont history: Snickersville 1864 and When the Trains Came to Bluemont. They each describe a pivotal time in the formative years of the village of Bluemont. They will run every half hour from 12:30 until 2:30 each day (the last shows will begin at 2 pm). Once you are finished downstairs, stop by the church sanctuary upstairs to enjoy the spectacle of dozens of handmade quilts draping the pews and balconies of the church.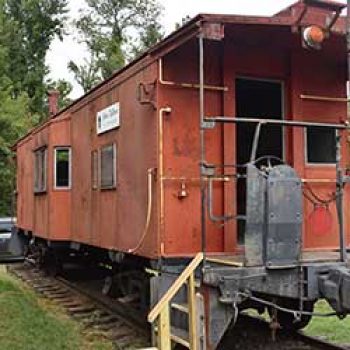 Caboose
Come inside a real caboose! See where the conductor ate and slept and used the bathroom. The caboose behind the Bluemont Community Center will be open for exploration at designated hours during each day of the Fair. Please refer to the Fair Schedule for details.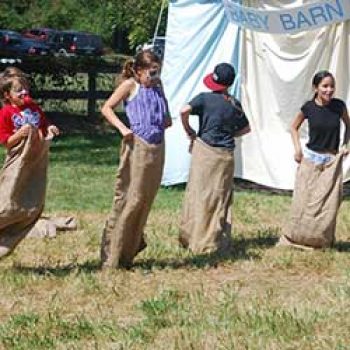 Children's Fair
This area behind the Bluemont Community Center is a highlight for our youngest fairgoers. It is a self-contained section of the fair filled with old-fashioned fun. The kids can get a free balloon, have their face painted, play games, make crafts, or just blow bubbles and climb on hay bales—all included in the price of fair admission. Group games and challenges are held at intervals during the Fair—refer to your
Fair Schedule
for times.  There are also specialty crafters in this area geared towards children, so if your kids want to get a henna tattoo or do some sand art, this is the place to take them.
Children's Poetry Contest/Tent
Children can submit poetry to the contest before the Fair—winners get cash prizes! And kids are encouraged to stop and pen a few words during the Fair at the Poetry Tent.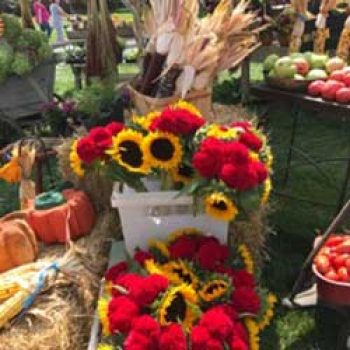 Farm Market
Bring home some of the lovely produce and other products that grows on the farms in and around Bluemont.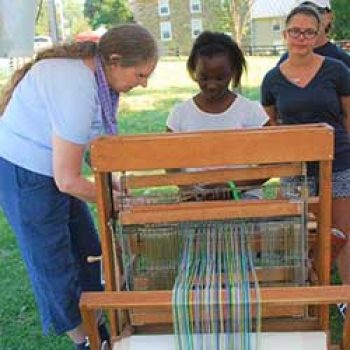 Fiber Arts
Many of us associate wool with sheep, but other farm animals — including alpacas, bunnies and goats — also produce fibers that can be spun into yarn and then woven, knit, or made into other creative items. Visit Creekside Fiber Arts Field  to see and pet local fiber animals; view demonstrations of spinning, weaving and felting; and browse hundreds of items made by local fiber artisans. Demonstrations are ongoing throughout the weekend and are free of charge.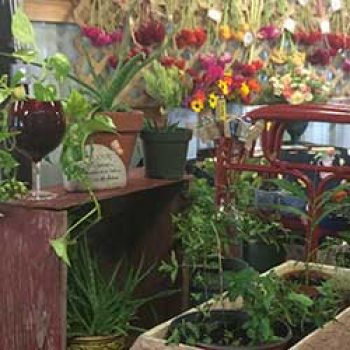 Gardener's Shed
Stop by the Gardener's Shed behind the Bluemont Community Center for gardening inspiration or garden-inspired goods. We offer native plants, cut flowers, art and furniture inspired by the garden, and products made from local plants.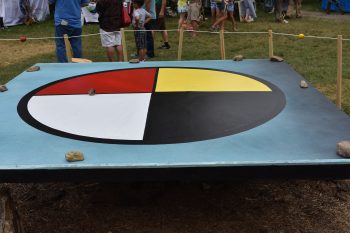 Indian Village
Visit the Indian Village to learn more about Native American lifestyle and culture. This year, the Indian Village's collection of exhibits, demonstrations, and hands-on activities include: Indigenous and local archeology; a suspended reading-room; wild-color tie dye; morel mushroom propagation; cordage making; rock, gems and crystals; fishing basket weaving; cattail weaving; natural soap making; wooden flutes; food is medicine garden; music and films; Native American regalia exhibit; flint napping; bones, stones and other treasures; and community healing. Refer to the
Fair Schedule
for the times of the many talks and demonstrations.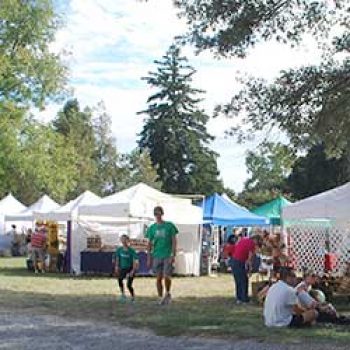 Juried Crafts
The Bluemont Fair hosts approximately 80 artisans from nearby and afar in our extensive Juried Crafts sections. Juried Crafts are featured on the front lawn of the Bluemont Community Center as well as in the Barn behind the Center. The wide array of crafts and original art available for purchase includes photography, hand-made baskets, birdhouses, wood carving, knitted and felted and crocheted fiber arts, ceramics and pottery, jewelry, quilted goods, dolls, soaps and lotions, stained glass, outdoor copper works, gardening items, and much more.  To see our list of artisans, follow this link:
Juried Crafters
.
Step inside E.E. Lake Store (second floor) to visit our extensive model train display! Children love to see the running trains and investigate the interesting layouts. We are delighted to have
Northern Virginia NTRAK
with us.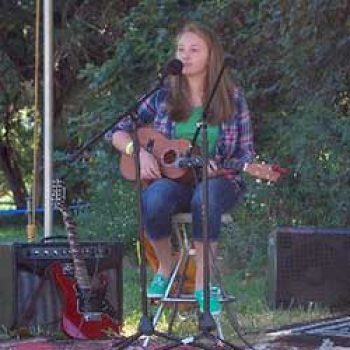 Music on Two Stages
The Bluemont Fair is known far and wide for its music. There are two stages running concurrently, so you will find music wherever you go in the village. As a country fair, our focus is on Americana, roots, bluegrass and folk, but you can find a little bit of everything here.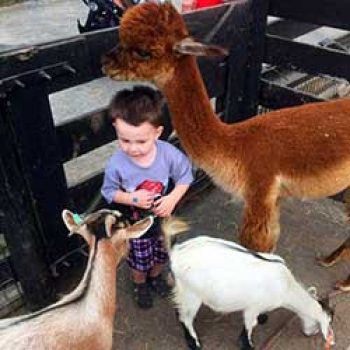 Petting Zoo
Included with Fair admission is entrance to our petting zoo. Kids can step inside and pet their favorite critters!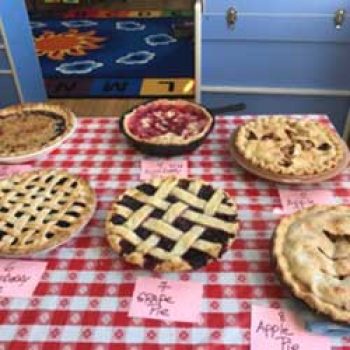 Pickle & Pie Contest
Each year we have stiff competition in our Pickle & Pie Contest! On Saturday morning, bring your best pickles and your tastiest pies—the prizes are beautiful crafts created by Fair artisans. And be at the Lake Store by 1 pm Saturday to taste the winners—the competing pies are sold by the slice after the contest is over!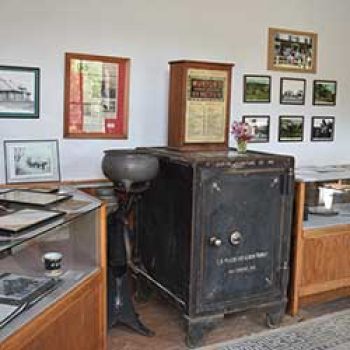 Plaster Museum of Bluemont's Heritage
Bluemont has a museum in the E.E. Lake Store that presents stories and memorabilia relating to the history of Bluemont. Come visit our current exhibit—we feature a new aspect of Bluemont each year! Docent tours each day as posted. While you are here, try opening the antique post office boxes still lining the walls of Bluemont's first Post Office.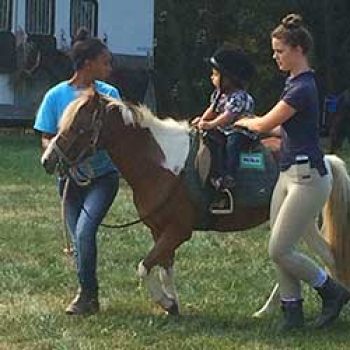 Pony Rides ($)
For many children who get to experience a country fair, one of the things they remember the most is a pony ride. For a small fee, kids can enjoy a ride on a gentle pony, brought to us by
Valerie Hoke Pony Rides
.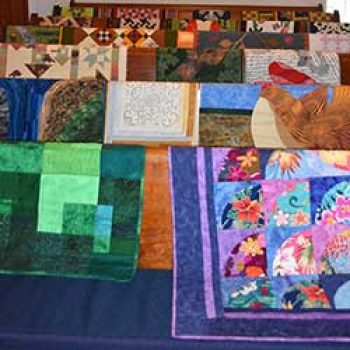 Quilt Show
Treat yourself to a cool break from the heat; come into the Bluemont United Methodist Church across from the Community Center to see a beautiful collection of quilts made by the members of the Waterford Quilt Guild. We have quilts of all sizes, all colors, and all techniques, displayed in a lovely arrangement in the church sanctuary. Free admission to all Fair attendees. Look for the children's activity box where children can make their own quilt block souvenir! You can also participate in the Waterford Quilt Guild's annual quilt raffle—see the Announcements tab for details and a photograph of this year's quilt. Visit the Raffle Quilt and pick up tickets inside the church.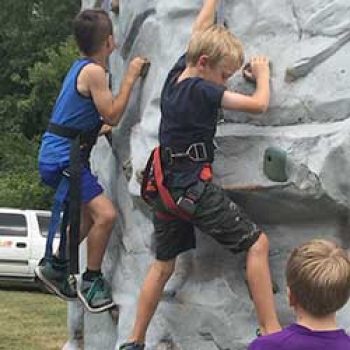 Rock Climbing Wall ($)
The popular rock climbing wall will be located in Stone's Field this year. For a few extra dollars, challenge yourself—can you get to the top? The climbing wall is brought to us by
River & Trail Outfitters
.
The Rope Bridge in the parking lot is run by Boy Scout Troop 961 (who also manage our parking). Test your balance and support our local Boy Scouts!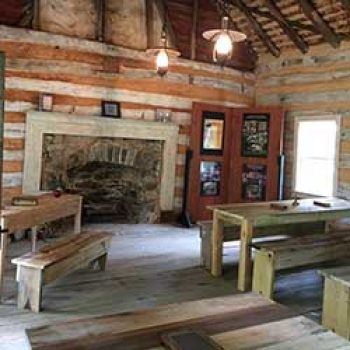 Snickersville Academy
Be sure to visit the Snickersville Academy log cabin, c. 1825. Enjoy a walk up the Turnpike and over the creek (look for signs!) to visit Bluemont's first school/church, set up as it would have been in its schoolhouse days. Stroll back in time to relax in the shade of the beautifully restored cabin, read the interpretive signs, and play old fashioned games. Create a whirligig, a free craft for all to try!  Log cabin restoration done by the Friends of Bluemont.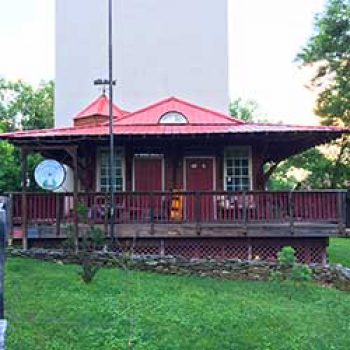 Train Station
Bluemont was the end of the line for the W&OD railroad, and our train station was located at the end of Railroad Street until it burned down in 1920. But the grain elevator was left standing, and a scaled-down replica of the old train station has been reproduced at the foot of that elevator. Wander down Railroad Street to visit the depot, and see memorabilia related to the railroad line and the glory days of Bluemont.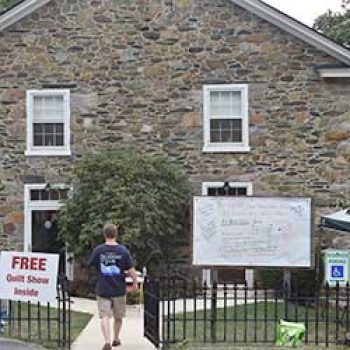 United Methodist Church of Bluemont
The Bluemont United Methodist Church, the lovely stone church across from the Community Center, will again be serving as a Hospitality Center with tents and seating on our front lawn. Guests are welcome to take a rest and visit the quilt show inside or see the videos on the history of Bluemont running on the lower level.  We will have cold drinks, grilled hot dogs, brats, homemade cookies, muffins, snacks and our famous apple dumplings for sale. All profits will be used for missions locally as well as at other locations across the globe. Our motto is "your buck doesn't stop here!"