Vendor Page
Thank you for your interest in participating in the Bluemont Fair. Each vendor/participant category is listed below. Please go to your category and click on each of the documents included in that area, then print them out. Please mail your printed application to the address on the application, with your entry fee (if applicable). Once your application and entry fee are received, you will get a confirmation from the Fair Chair for your area. Further details will be sent out as the date for the fair draws near. If you have questions, please contact the Fair Chair listed on your application.
Most Bluemont Fair vendors are required to provide proof of insurance. Further information about the insurance requirements can be found here Vendor and Exhibitor Insurance.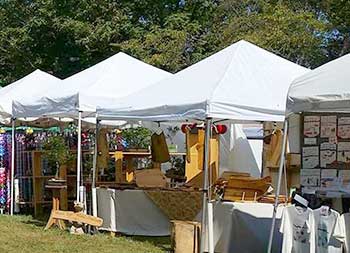 Art Show and Sale (click links below to open forms)
The Bluemont Citizens Association invites you to participate in the 2022 Bluemont Fair Art Show & Sale. The Bluemont Fair is an old-fashioned country fair that has been drawing thousands of people for the past 50 years. One of our proud traditions is to show off the talented artists here in our area. Amateur and professional artists who produce wall-hanging art are encouraged to enter the show and sale. We hope you will join us this year and bring several of your pieces for everyone to enjoy! 
We have sold out spaces for the 2023 Art Show and Sale, thank you for your interest!  We still need volunteers to staff the Art Show.
Juried Crafts (click links below to open forms)
Please note that we require that all crafts are 100% handmade by you, and are of the highest quality workmanship, originality, and creativity. All-natural materials should be used whenever possible. A committee will evaluate all applications to determine their eligibility.
Barn now full for the 2023 season.  Lawn spaces still available.
We are FULL for jewelry vendors for the 2023 season.

Food Vendors (click links below to open forms)
We have two categories of food vendors: Food Concessionaires, which are products that are prepared on site for consumption on site, and Specialty Foods, which are vendors with a limited line of products that are not intended to be consumed on site. (Note that we also accept baked goods for our large bake sale—see the Baked Goods Consigners category below).
Antiques and Flea Market Vendors  (click to open registration form)
This category is for the resale of antiques, collectibles, and other treasures.
Bluemont Fair's Fiberfest (click link below to open form)
This section of the Fair focuses on fiber animals (such as sheep, alpacas, rabbits, and goats) and the fiber arts. Here vendors demonstrate fiber skills and sell related artisan products. 
Children's Fair & Interactive Crafts
The Children's Fair is a FREE separated area of the fair, with games, crafts, face painting and activities geared towards younger fairgoers. Nearby are vendors who run interactive crafts designed primarily for children: sand art, henna tattoos, and tye-dying, for example. These interactive vendors typically charge fees to patrons who participate in their crafts.
Young Entrepreneurs (click link below to open form)
We are pleased to offer deeply discounted spaces to children aged 6-17 who want a space to sell their own crafts or services. This section is adjacent to the Children's Fair area; children must set up and run their own booths.
Non-Profit Vendor Application  (click to open online registration form)
We offer discounted Fair spaces to registered non-profit organizations who want to share information with or sell fundraising items to fairgoers.
Local Businesses (click to open online registration form)
We have a limited number of spaces available for local businesses that do not sell handmade crafts or food, but sell other types of items that are consistent with a country fair.
Ticketed Ride Vendors  (click link below to open form)
Ticketed rides are activities like pony rides or a rock climbing wall, where the vendor pays a fee to have a space at the fair, but sells tickets for their ride and keeps all proceeds.
Baked Goods Consignors  (click to open online registration form)
We have sold out spaces for the 2023 Baked Goods Sale, thank you for your interest!
We have a giant bake sale each year, where consignors leave their individually packaged baked goods and the Fair sells them for an 80% baker/20% Fair split.
Authors  (click to open online registration form)
We encourage local authors to set up a booth in the Authors' section, where they can talk to Fair patrons and sell their books.